---
Embrace Foundation Archives


CURRENT - 2013
TRAVEL AS AN INTERFAITH ACT
INDIA - EGYPT - GHANA
Dec 2012 - Mar.2013
INDIA
Hindu, Jain & Buddhist Sacred Places
Meenakshi Temple, Madurai, India
The Embrace Founders traveled to India, Egypt and Ghana from the beginning of December 2012 through March 2013. One of the primary
reasons the Embrace Founders traveled to India was to photograph the ancient Hindu temples in South India for the Embrace Sacred Places
website. It was also to document Buddhist and Jain sacred places as well.
As Always Our Extended Agenda Was:
To meet with religious leaders, spiritual leaders and scholars throughout these countries.
To encourage grassroots interest in organizing intercultural and interfaith events in their respective communities.
To photograph as a record, places considered sacred by the people living in these countries.
To photograph precious anthropological/ archeological sites that are vulnerable to war and ecological damage.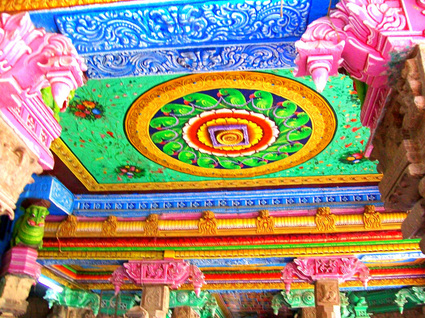 Meenakshi Temple, Madurai, India
There was difficulty in getting photos of the Ujjain Temple and only limited ones of the Omkareshwar Temple but the remarkable Tamil temples of Chidambaram, Thanjavur, the Meenakshi Temple of Madurai and the Vishnu Temple of Srirangam were all photographed.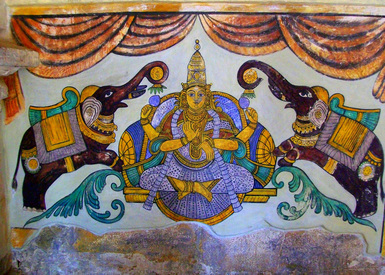 Wall Painting, Brihadeswara Temple, Thanjavur, India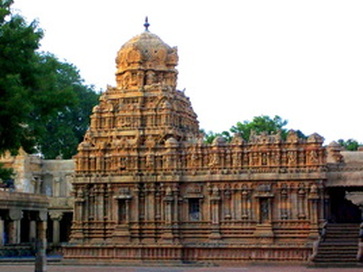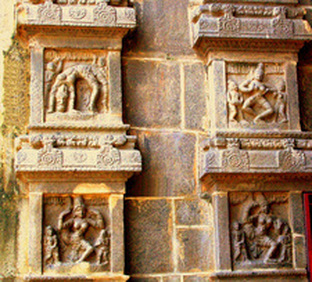 Brihadeswara Temple, Thanjavur, India
Dancers, Nataraja Temple, Chidambaram, India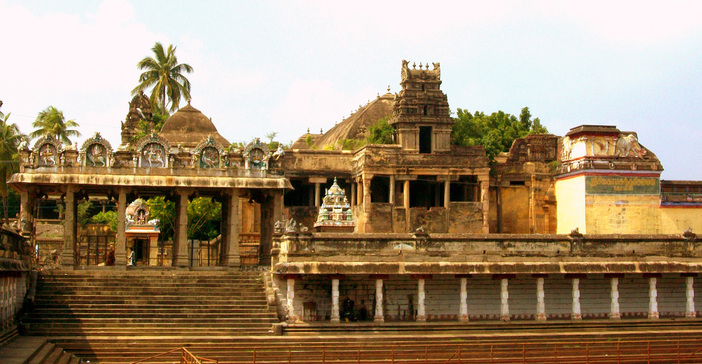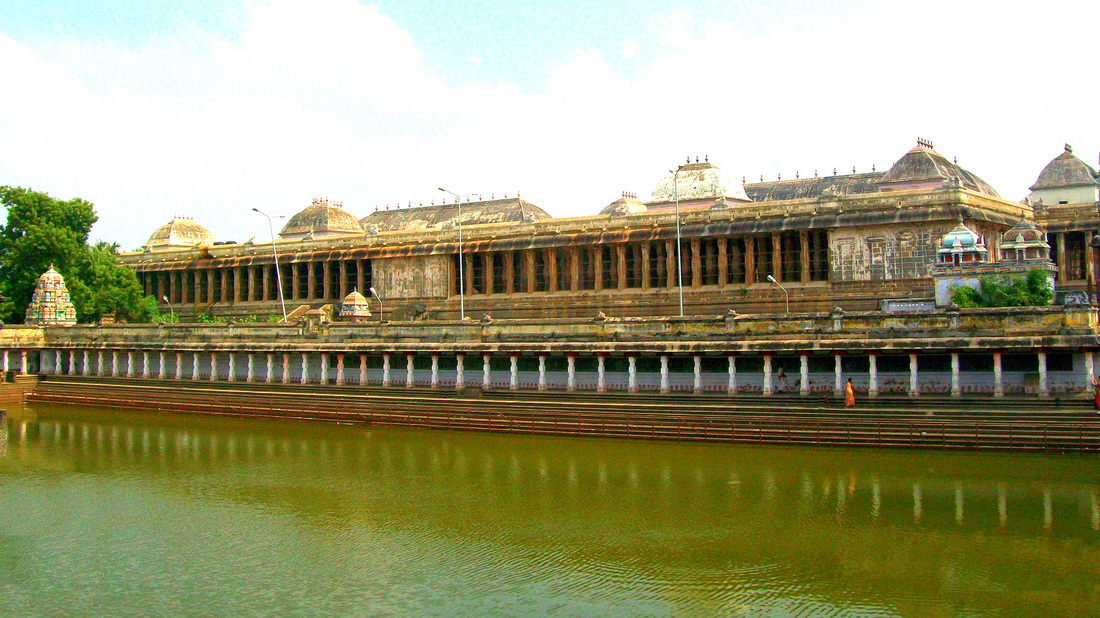 Nataraja Temple, Chidambaram, India
The Temple Complex of Chidambaram should be a World Heritage Site.It desperately needs environmental protection, preservation and renovation.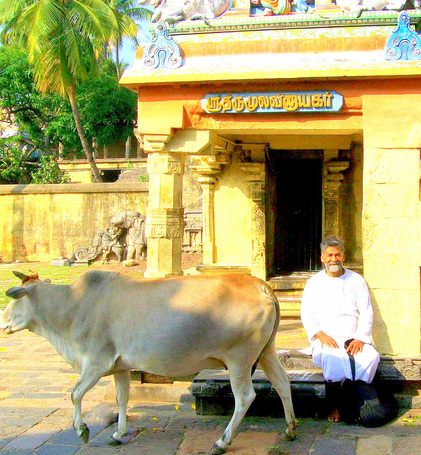 Ajata at Nataraja Temple Complex, Chidambaram, India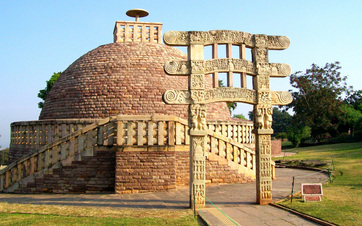 The Buddhist sacred sites of Sanchi and the ancient Jain, Buddhist and Hindu cave temples of Ellora were also photographed for Embrace Sacred Places.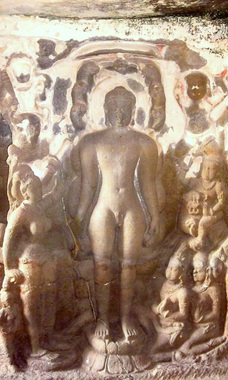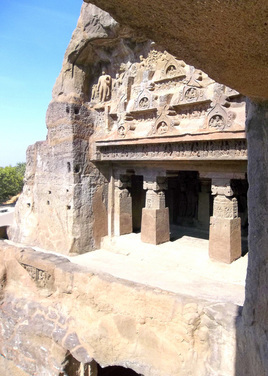 Jain Temple, Ellora, India
Rock Carved Temple, Ellora, India
The Founders were able to observe the Bhutan Nyingmapa's Buddhist monks and nuns' "Monlam Chenmo" (Annual Peace Prayer Ceremony -chanting) that took place from December 1st through January 21st in Bodhgaya. During this period, Bodhgaya was filled with Bhutanese monks, nuns and householders.(Bodhgaya is where the Buddha received "enlightenment" meditating under the Bodhi Tree.- The Bodhi tree shown in some of our photos is a decendent of the original tree that the Buddha mediatated under.)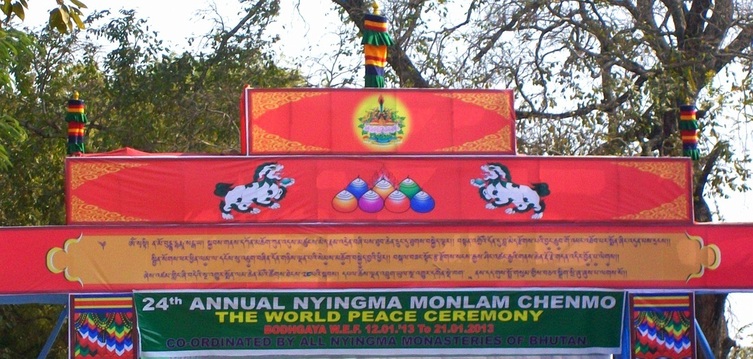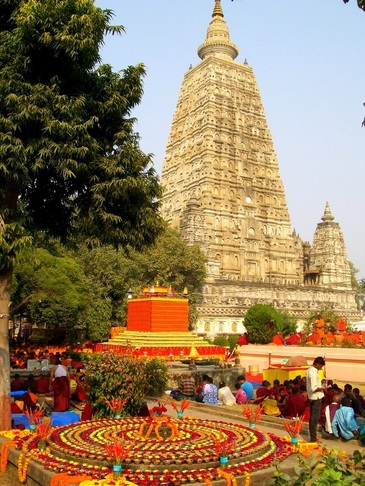 Bhutanese Nun, Bodhgaya, India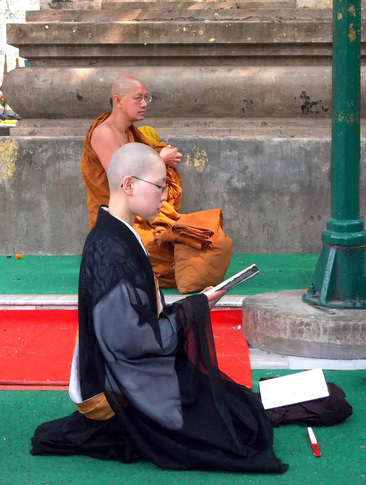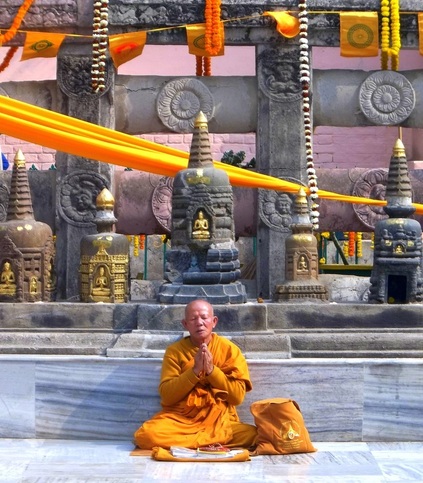 Japanese Nun in prayer under Bodhi tree, Bodhgaya, India
Sri Lankan Monk in prayer, Bodhgaya, India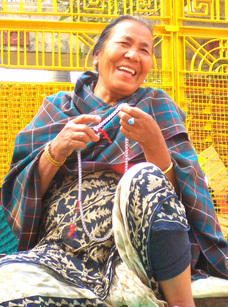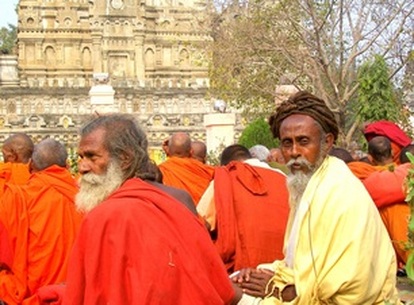 Bhutanese Lady Joyfully Chanting
Hindu Sadhus joining in Buddhist Prayers
By good fortune the relics of the Buddha and two of his foremost disciples Sariputra and Maha Mohallana, were brought out for the annual public viewing by the Mahabodhi Society in Bodhgaya where the relics are stored throughout the year.

Ajata was fortunate to be able to see these relics at this special time and photograph them.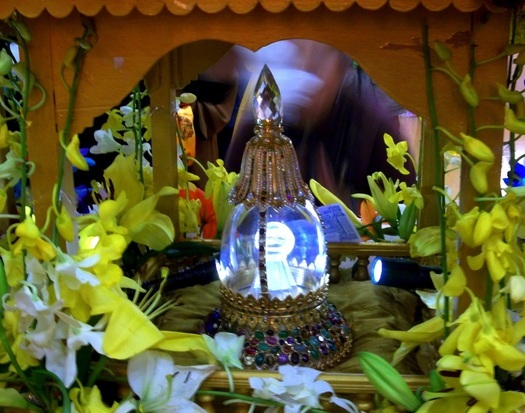 Relics of Sakyamuni Buddha, Shown Once a Year in Bodhgaya, India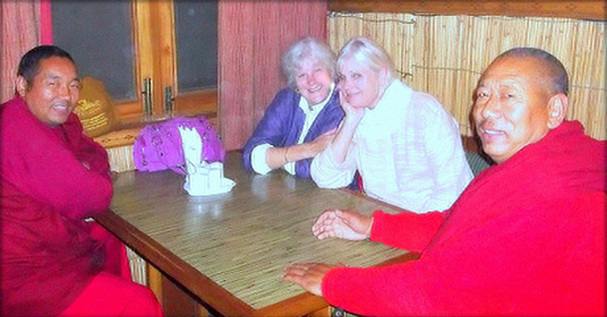 Virginia with Kirsty Chakravarti - Buddhist, Philanthropist - Builder of Schools, Hospitals & Temples in India & Tibet
EGYPT
Christian, Islamic and Jewish Sacred Places
The Embrace Founders spent time at Al Azhar, one of the world's leading Islamic institutions since AD 970. Although it is Sunni in theological structure, there have been recent discussions with regard to adding a Shi'a curriculum. As one young Bedouin guide told Ajata, Bedouin do not make these distinctions, we are all Muslims, we all pray to Allah.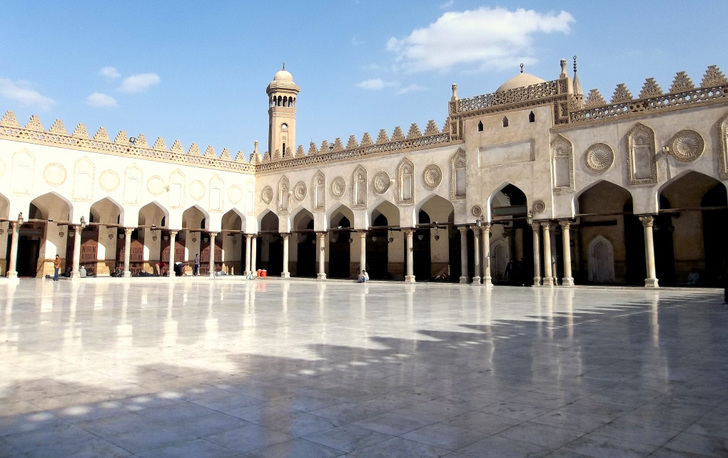 Al Azhar Mosque - Cairo, Egypt
The Founders enjoyed visiting The Hanging Church in Cairo, a Coptic Church renovated but originally dating to 9th Century. The Egyptians were among the earliest Christians. It is believed that Mark the Evangelist established a Christian tradition in Egypt as early as AD 33. No one knows what ancient texts may be hidden in the oldest Coptic sacred places, monasteries and churches spread throughout Egypt.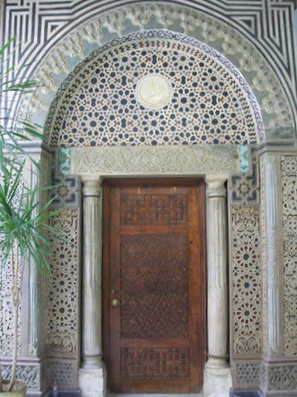 Hanging Church, Coptic Christian, Cairo, Egypt
The Ben Ezra Synagogue below did not allow photographs inside, as a number of spiritual places did not. For Jewish visitors, they do have yamulkas inside, although we're not sure if the woman we asked knew it by that name. The walls of this small synagogue has a beautiful geometric design in dark wood with inlaid mother-of-pearl. Particularly appealing to those who love books, are the glassed in shelves that were built into the side walls of the synagogue. Indeed, books and learning are sacred.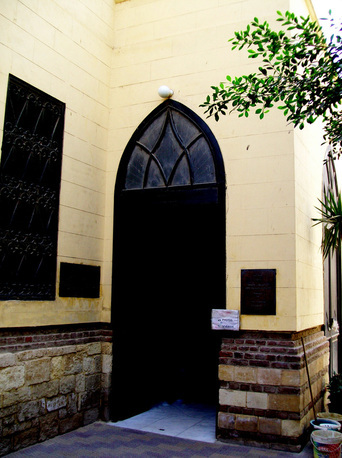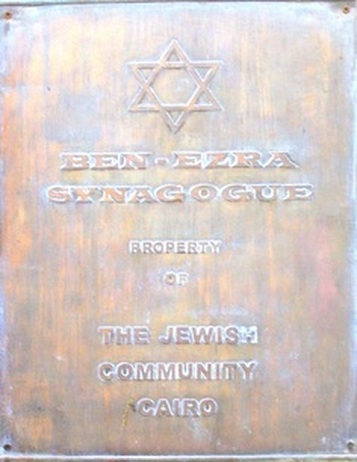 The Ben Ezra Synagogue - Cairo, Egypt
The Ben Ezra Synagogue - Cairo, Egypt
The Mosque of Ibn Tulun in Cairo is a magnificent structure that is in the greatest need of immediate preservation and reconstruction. The mosque was founded in AD 876. It too, should receive a World Heritage Status and funding. We have photographed the inside of the remaining interior arches still retaining their intricately designed geometrical patterns.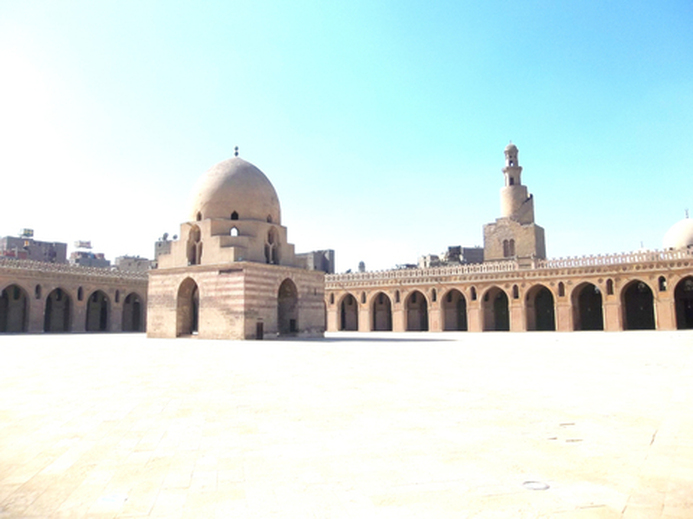 Ibn Tulun Mosque, Cairo, Egypt (AD.876)
It was a joy meeting and staying with Bedouins in the Sinai near St. Catherine's Monastery (Greek Orthodox). The earliest religious shrine established at the site of St. Catherine's was established in the 6th century commemorating the Burning Bush from where God spoke to Moses on Mount Sinai (Jebel Musa.) This is a sacred sight for the Jewish Community, the Christian Community and the Islamic Community.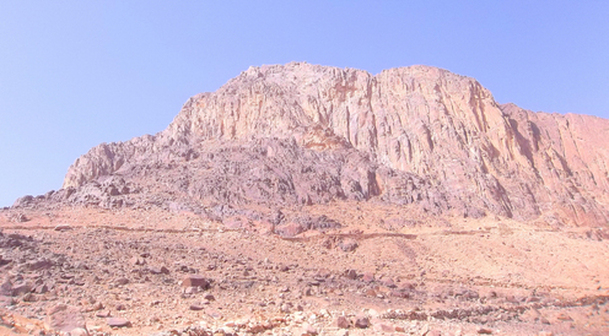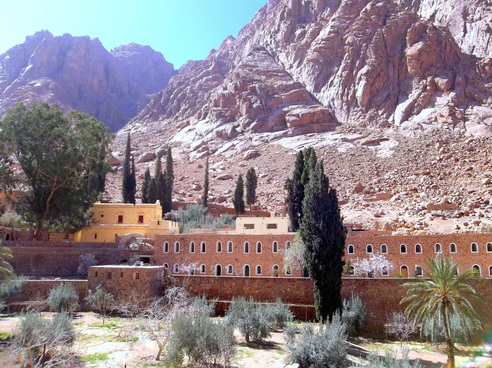 St. Catherine's Monastery, Sinai (AD 330)
Of historical significance is the Ahtiname, a declaration signed by Prophet Mohammad in the 7th century protecting St. Catherine's Monastery. The original declaration is in Turkey, however, not in the Sinai.
The Founders visited some of Christianity's oldest monasteries in Egypt. Christian monasticism began in Egypt with St. Anthony. The visit to the Wadi Natrun monasteries were among the most joyous occasions of our travels. The monks, all we met, were a delight, and we had to wonder whether the monks are selected based on their loving and exuberant personalities. All visitors are made to feel welcome and immediately become extended members of a large congregational family. We arrived on the observance of the passing of their dearly beloved Patriarch Shenouda the 3rd. It was a day of happy remembrance for his community, knowing that the Patriarch after serving his people faithfully his entire life, was enjoying the many blessings he had accrued. Tiny babies had costumes of the Patriarch's vestments that had been lovingly sewn by their mothers or grandmothers. And many little ones were gently placed in Virginia's arms so that parents could photograph their newborns with their new foreign visitor.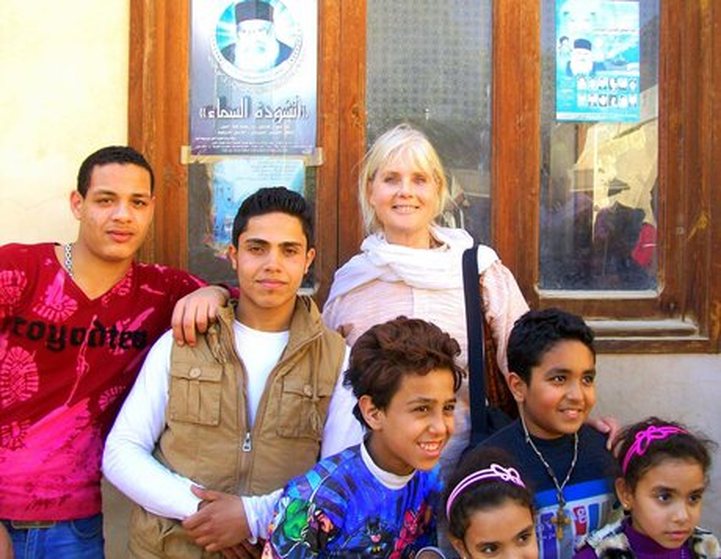 Virginia & Children posing for many parent photographers at the Coptic Christian Bishoi Monastery - Wadi Natrun, Egypt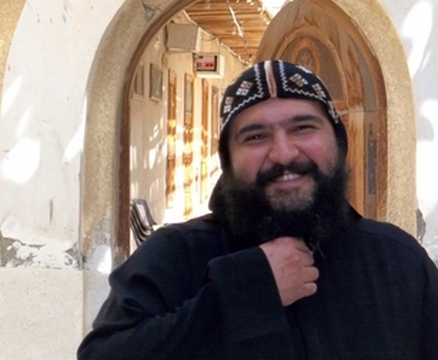 Joyful Father Grigoris Bishoi
Deir Anba Bishoi Coptic Christian Monastery - Wadi Natrun, Egypt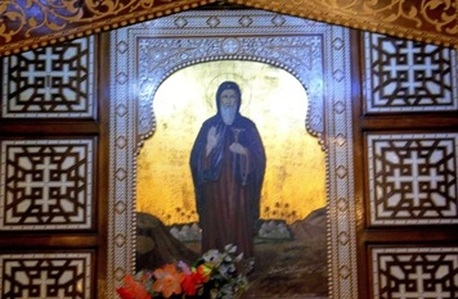 St. Bishoi at the Bishoi Monastary, Wadi Natrun -Egypt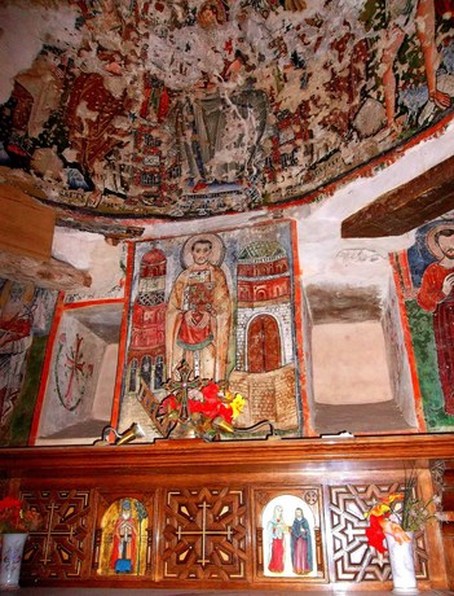 Deir el-Surian Coptic Christian Monastery - Egypt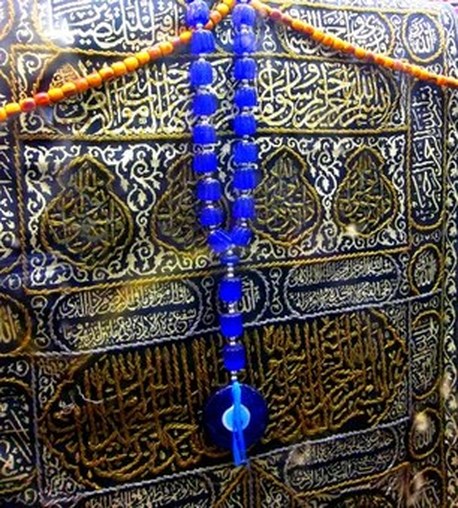 Dargha of Sayyidna (Saint) Badawi - Egypt
GHANA
Traditional Culture & Christianity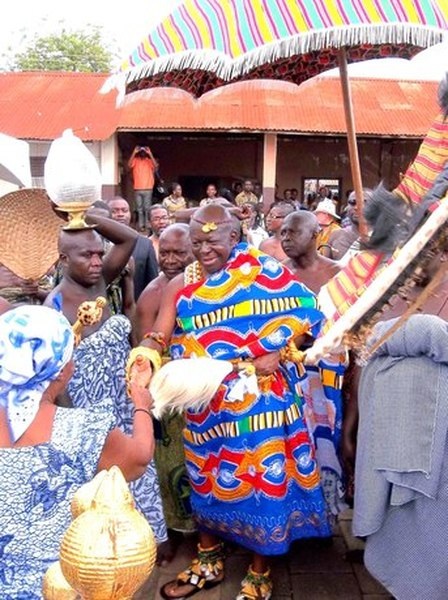 The Greatly Respected Ashanti King Otumfuo Osei Tutu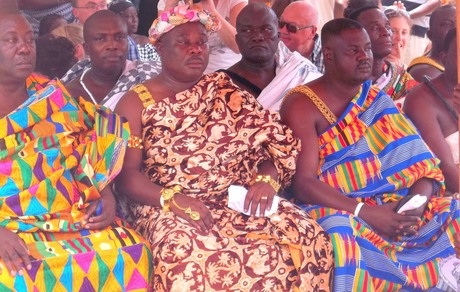 Visiting Chiefs from Different Regions - Ghana's Gold on Display
The founders were able to attend an audience of the Ashanti King Otumfuo Osei Tutu. Tradition holds that the Asantehene (King) be available to his people every 42nd day. The night before the audience a sacred ritual is performed with regard to the Okomofo Anokye Sword, which represents the solidarity of the Ashanti people. Regardless of whether Ashanti people are Christian or Muslim, almost all of them have reverence for the Asantehene. On the 42nd day, Chiefs from regions around Ghana come to pay their respects, ritual dances of welcome are performed which can only been seen in the presence of the King. The dancers have a mirth and humor about them while they tell a story with their feet and hands.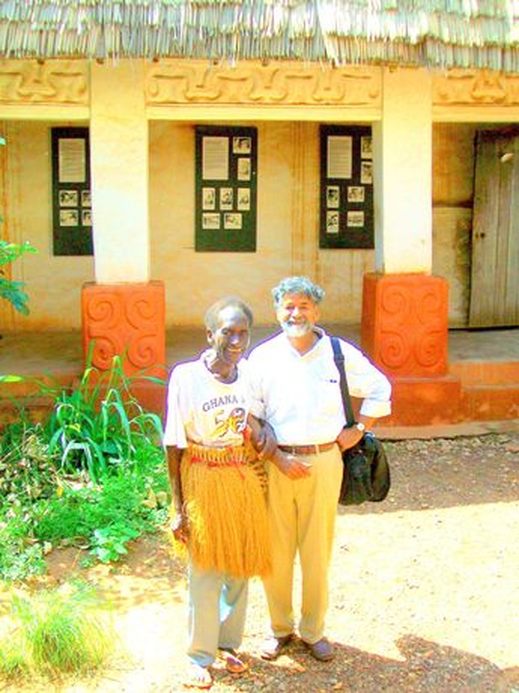 Ajata with the Okomofo at the Ashanti Shrine World Heritage Site
Sadly, many of the traditional shrines in Ghana have either been destroyed or must be hidden to keep them safe. While enquiring into visiting another shrine in the Ejisu/ Besaese area, we were informed it had burnt down. There is much disinformation and entirely untrue rumors circulated by recently arriving, competing missionary interests with regard to the Traditional African practices. Their fierce struggle to accrue money has made them intemperate in their speech and some times cruel.

The Traditional People of Africa - including the Ewe of the Eastern Volta region and others have always been very particular about protecting nature and especially sacred forests, which now are continuing to be decimated by corporate interests. While traveling, we saw trees as long and wide as old-growth redwoods, being transported to some destination which will end up most likely in products sold to the West. (For more information you can click below to get to the World Rain Forest Movement.)

http://www.wrm.org.uy/bulletin/60/Ghana.html(http://www.wrm.org.uy/bulletin/60/Ghana.html)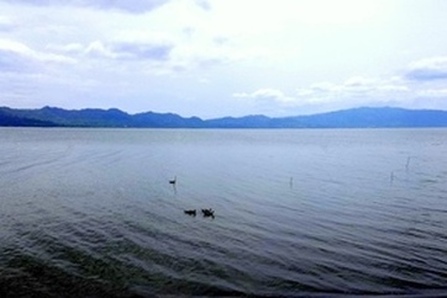 Sacred Ashanti Lake Bosumtwe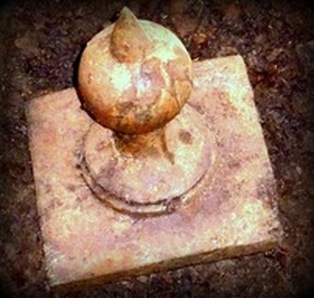 Hilt of the Mystical Okomofo Anokye Sword, The Blade has been Buried for 3 Centuries
The establishment churches with institutional hierarchies that are able to keep all finances accounted for, have done wonderful work in Ghana with general education into healthy lifestyles for families, schools and the setting up of congregational credit unions (by both the Methodist and Catholic churches.) However, Ghana is currently, in terms of Protestant denominations, something like the Wild West in America. The inflation factor has driven a lot of middle class people into difficult straits and for the little educated poor, setting up shop as a "minister" by "testifying" at a deafening level, over blasting loudspeakers is both a haven for con-artists and an assault to the senses of nearly all innocent passersby or passengers in buses.

On one bus trip while being accosted by a shouting "testifier", the Founders traveled with two women from Switzerland. When the "testifier" finally got off the bus. One of the women said, "Well, Ghana is a poor country, they can't afford to put crazy people in an institution."

The day before Easter, the Founders made inquiries as to which church might have a service in English. We stopped by the Anglican Church and were told by a Deacan that they would be having a service in English. We suspect the very kind congregation made special preparations for us because the service had a large screen at the front of the church where every thing was written English and Reverend Allotey very generously led the service in both Akan and English. We think we were the only people, besides the Reverend Bishop, that spoke English, at least regularly.

The service was delightful with a band, chorus and procession leading up the isle at the beginning of the service. A choir sang, the congregation sang and then nearly two hours later at the intercession the service turned towards a more gospel flavor which was a heartfelt expression of rhythm and joyful exuberance.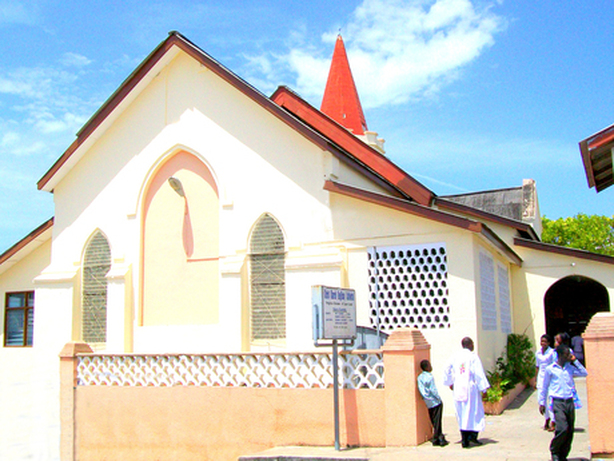 The Cape Coast Anglican Church where Virginia & Ajata attended Easter Service
with The Rt Rev. Daniel Allotey, (Bishop) presiding
There is precious little updated information available in travel guides with regard to many of the countries the Founders travel in. Some
countries have extensive travel information but vital information is frequently omitted. For those interested in traveling to the above
countries or sacred places we are adding some pertinent notes and many more photos in our CELEBRATE HUMANITY section.
Photos from all the above mentioned countries will be added to our EmbraceSacredPlaces.org website for free download.