---
Embrace Foundation Archives


CURRENT - 2010

TRAVEL AS AN INTERFAITH ACT
From the end of February through the first week of June, the Embrace
founders traveled through Lebanon, Syria, Jordan and India.

Embrace encourages all who can do so, to learn about other traditions and
cultures by traveling as "Grassroots Diplomats." We hope that people
every where become life long students of our world-wide humanity.

" In every man there is something wherein I may learn of him,and in that I
There were four primary objectives to this travel:
First: To renew friendships and meet new religious leaders, spiritual leaders
and scholars throughout these areas.
Second: To encourage grassroots interest in organizing intercultural and
Thirdly, We were on a photo shoot to record places considered sacred by
the people living in these countries.
Fourth: To photograph precious anthropological/ archeological sites that are
vulnerable to war and ecological damage.
Early Christian Monastery where Priest Bahira met The Holy Prophet & predicted his illustrious future
The Embrace Gallery of Sacred Places offers anyone with access to a computer and a printer the ability to download photos of sites special to
them free of charge. Those who would like to make a contribution to our work can do so.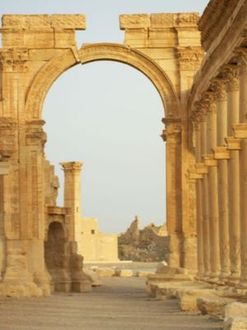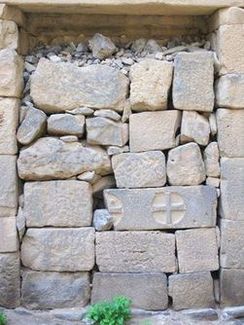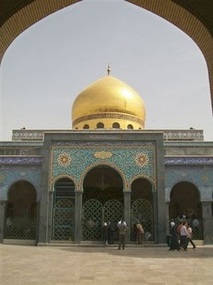 The Embrace Gallery of Sacred Places is not only a place to enjoy the beauty found in religious and spiritual shrines, architecture and pilgrimage places, but a means of keeping a record of such sites world wide. We hope it serves as a reminder, to those who wish to launch more wars, the irreparable damage and permanent loss that such endeavors will likely cause.
Sayyida Zeinab Mosque, Damascus, Syria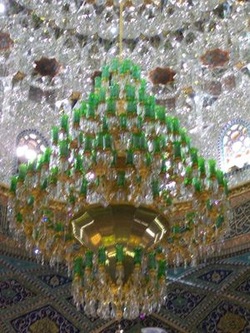 Presently, around the globe, there are wars and conflicts occurring that are destroying sites of great archaeological, anthropological and spiritual significance. Many places that scholars have yet to fully investigate are at risk.
Chandelier Above Shrine in Mosque of Sayyida Ruqayya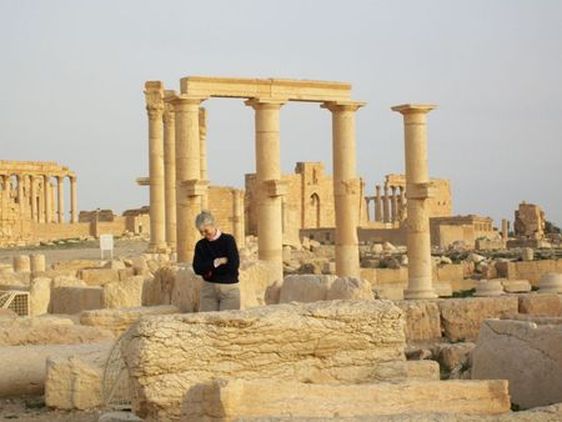 The Embrace Limited Editions Gallery showcases places of great beauty and historical significance, many that are also at risk.
TRAVEL -WHAT IT IS REALLY ALL ABOUT -FRIENDS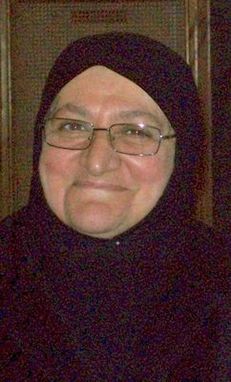 Sheikha Ahmad Wafa Kuftaro is a remarkable human being. She is surrounded
by throngs of people, especially women, who adore her. She is a scholar, a
person of great generosity, hospitality and love.
Sheikha Wafa is the Head of an educational non-profit that has particularly
helped, girls and women in the Middle East get excellent educations, many also
When we say that we were laden-down with presents by both Sheikha Wafa
and the women close to her, we are not kidding! However, the greatest gift was
Sheikha Wafa
Philanthropist & Qur'anic Scholar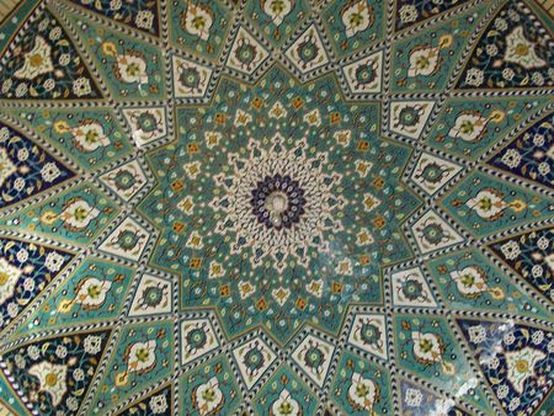 Ceiling Detail in the Mosque of Sayyida Ruqayya
Islamic architecture is admired worldwide. This is one small detail from a ceiling. See the Embrace Gallery Of Sacred Places for more complete photos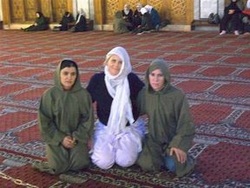 These young women wanted to have their picture taken with Virginia where they were paying their respects at the Shrine of Saint John the Baptist, (Prophet Yahya) The reliquary not shown here is in front of them. This Sacred Shrine contained within the famed Umayyad Mosque is believed to hold his head. It attracts both Christians and Muslims.
Umayyad Mosque, Near Shrine of St. John the Baptist

Imam Ameen (Visiting from India), Ajata, Virginia, Sheikha Wafa
The Kuftaro Mosque receives many visitors from around the world. We met young Mohammed Ameen who was visiting from Ajata's home town in India.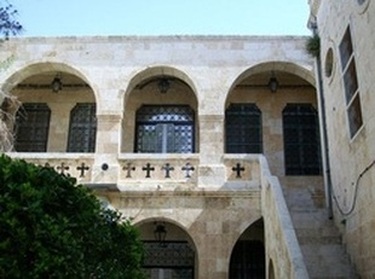 The Convent of Our Lady of Seidnayya is a place of profound
spirituality in the Middle East. Both Christians and Muslims come
here for pilgrimage. A sacred icon is responsible for the
manifestation of miraculously appearing oil. This painting of the
Virgin Mary is believed to have been painted by the Apostle
The miracle oil is distributed by the nuns who live here to all who
come, regardless of religion and free of charge.
Court Yard of "Our Lady of Seidnayya" Greek Orthodox Convent - Syria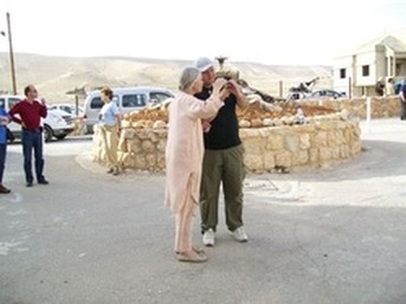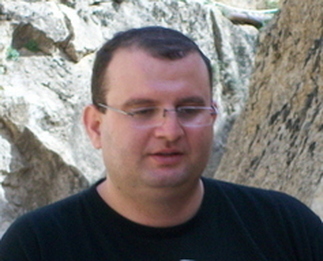 In Syria on Vacation, Zied from Tunisia, Volunteered To Guide Us
We first met Zied while we were in Damascus trying to figure out which bus to catch. He saw us struggling, came over and helped us locate the
correct transport.A few days later Zied ran into us and said that he and a group (of Westerners) were going to the Convent above. Would we
like to join them. We said, "Of course."Zied arranged drivers, taxis and did all the translating. It turned out Zied really was a kind and generous
soul, as he was a native Tunisian on vacation from a job in the Gulf. Since he could easily navigate himself around all of Syria, he did not need
the aggravation of escorting a group of Westerners on a free tour. This is why the Islamic culture is so noted for its' hospitality - which extends
even outside their home countries.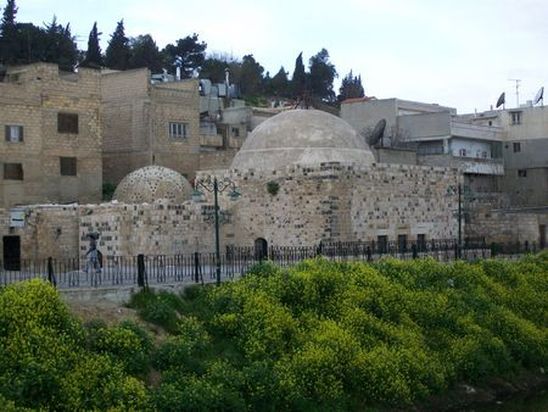 Remembering Three Young Men From the Gulf . . .

Hama, Syria

In Hama, we were walking down the street parallel to the main tourist attraction (a canal with wooden water wheels.) Suddenly we saw three young men in their early twenties from the Gulf. They stood out because of their brilliant white thobes and slightly billowing kufeyas lifted by the breeze. Almost all the Syrian men and women were dressed in either Western attire or earth colors.

Every where there were Arabs. There were only a handful of Westerners scattered about. The three young men linked arms and sort of skipped to a strategic photo site. They smiled at all the passersby. Then they saw a Western grandmother. She wore the usual "easy-care" pull up pants and a tucked in blouse. With a little bit of hand signaling and offering her their camera, it was clear that out of all the Arabs more than glad to be hospitable, they preferred to have a cherubic, gray-haired Western grandmother take their picture.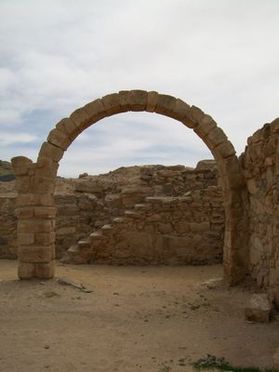 Umm ar-Rasas UNESCO World Heritage Site, Jordan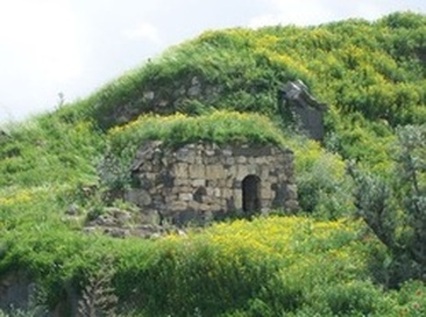 According to the Bible, Gadara is where Jesus -(Isa) drove demons into a herd of swine and off a cliff.

Photos of the cliff are in the Embrace Sacred Places Gallery (EmbraceSacredPlaces.org) for free download.

The area looks over the Golan Heights.
Umm Qais (the Biblical Gadara) - Jordan
Embrace Gallery of Limited Editions
INDIA
TWO SACRED INTERFAITH SITES IN INDIA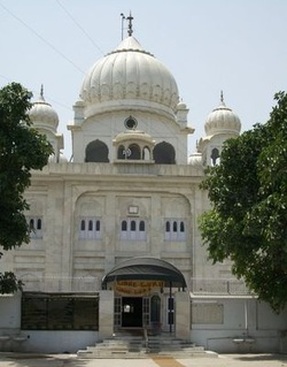 The Majnu Ka Tilla Gurdwara in Delhi is a place of great interfaith
significance. In the 1600's, Guru Nanak, the founder of the Sikh religion
and a saint, met with Sheikh Nizamadeen Aulia, an Islamic saint at this
location which is noted on a board in front of the Gurdwara. Both
agreed that their inner experience of the "Divine" was the same.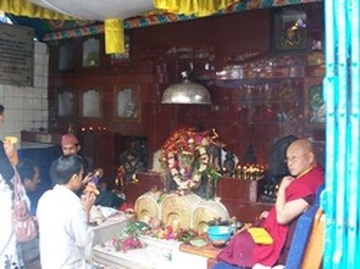 In Darjeeling on top of a sacred mountain is a temple shared
by both Hindus and Buddhists. The desire by the residents
to share their traditions which mirror each other, resulted in
both Hindu and Buddhist Holy Men jointly participating in
SIKKIM
In Sikkim we were invited by both Tibetan Buddhists and Limbo community leaders to come to a ceremony and talk by Yuma, a very young Holy Woman of the Limbo people who have their own distinct ancient customs and beliefs, aside from those who are also Buddhists.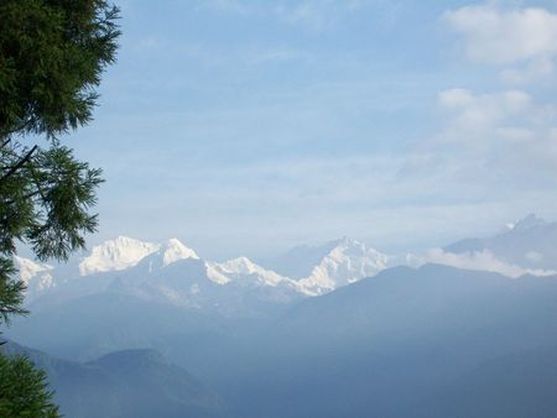 Sikkim is primarily home to the Nyingma Buddhist tradition and also has been the headquarters for the Kagyu Buddhist tradition. Although both
these sects are familiar to outsiders as "Tibetan" Buddhist traditions, the overflow of Buddhist thought moving from India to the high Himalayas
makes it impossible to separate the Buddhist traditions of Tibet and Sikkim. For instance, both Tibet and Sikkim claim Padmasambhava as the
founder of Buddhism in their countries. Padmasambhava traveled from India into the Himalayas bringing the teachings of the Buddha with him to
the people of these areas.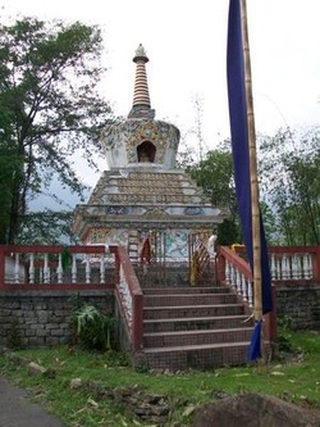 A stupa at Yuksum, Sikkim
HIMALAYAN FOOTHILLS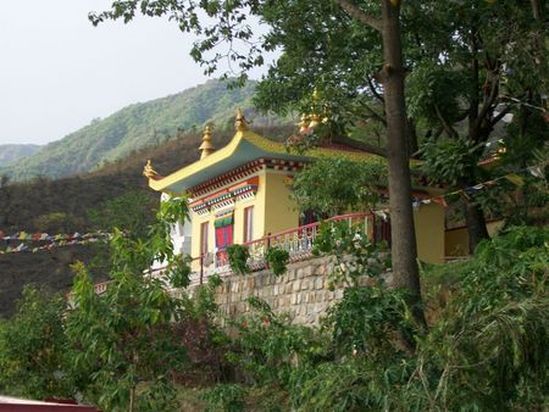 As a British citizen, Kirsty Chakravarty traveled through India and Nepal and Tibet beginning in the 1970's. She fell in love with India and has
lived in India since those early days. Kirsty has not only founded, designed and built the Tegchog Samten Ling Retreat but has built a school
and hospital for both people within Tibet, and also for Tibetan refugees in India. The retreat is home to 10 lamas and 2 nuns, as well as Kirsty. A
few are permanent and some stay for only a designated time. Kirsty has begun plans to add two more temples to the retreat.
Tegchog Samten Ling Retreat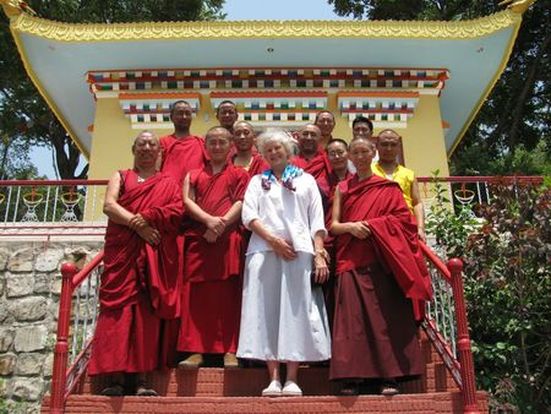 Kirsty and her lamas and nuns are also good neighbors. They have attended the opening of a new Hindu temple with their neighbors on the
mountain where they live. Locals desiring to hang prayer flags or visit one of their temples are welcomed to come by unobtrusively, to visit. It is
the policy of the lamas, nuns and Kirsty to give their business to the poorest people on the mountain and often pay in advance for teas all of
them will have at a local tea stall a month ahead.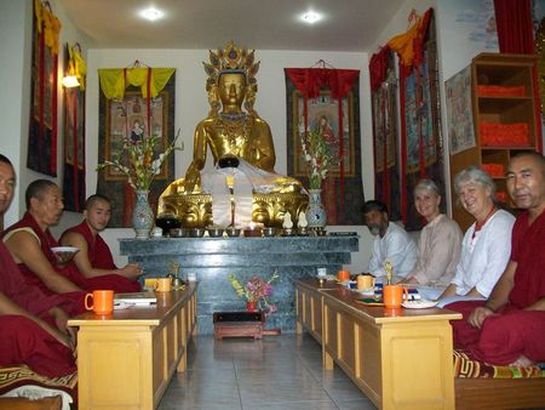 Virginia and Ajata celebrating Buddha's Birthday with Lamas in Dehradun, India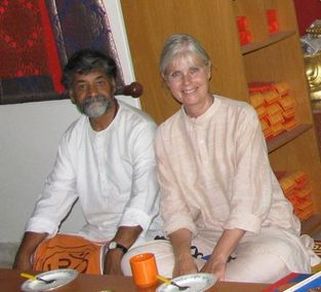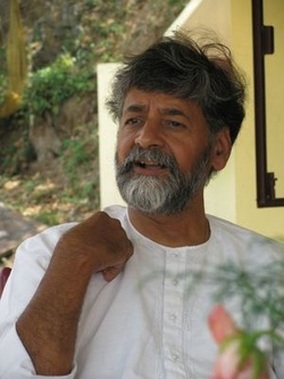 Young Sakya Rimpoche, still in training was visiting the retreat with his tutor on break from studies.
Ajata and the young Rimpoche enjoyed discussing philosophical issues over dinner and lunch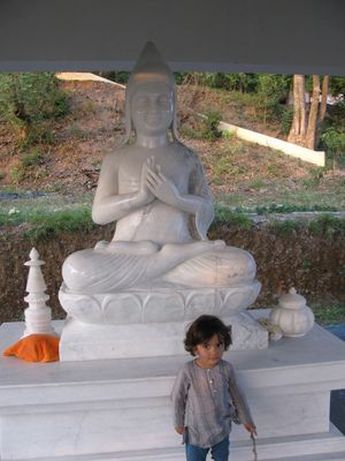 Statue of Shantideva, Dehradun, India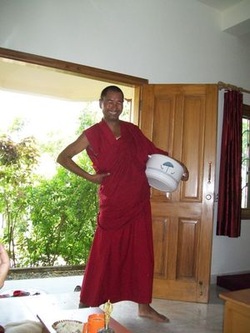 Lama Tenzin, being one of the newer lamas at the retreat was the one who
gave us his seat at the table during meals. He also took on a lot of extra
kitchen duties which our visit necessitated. If that wasn't enough, he was
appointed our chauffeur in getting us up and down the mountain. His
unselfishness and really hard work earned him our appreciation and a
DELHI, INDIA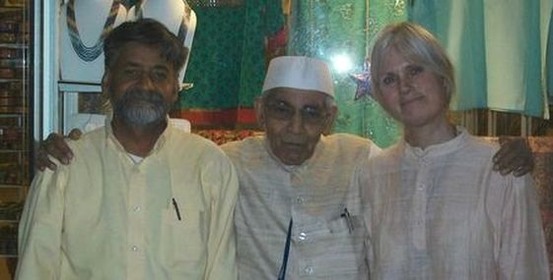 Prem Nath Mayer is one of Indian's "freedom fighters" and as such,
highly regarded by all in India. No one yet has forgotten the courage it
took to stand beside Gandiji in passive non-resistance, often getting
badly beaten and frequently being jailed. Even the young people know
what they owe the "Freedom Fighters." In the early evenings, we would
meet for tea and both young and old with tears in their eyes would bow
down and touch his feet. A custom of respect in India that is not often
Prem Nath takes an active interest in India's future and as such he was
motivated to try and keep positive relations with neighboring countries.
He is the Founder of the "Indian Association for Peace and Friendship
With China" which is strictly a grassroots, non-political volunteer
The Urs of Sheikh Nizamadeen Aulia, Delhi, India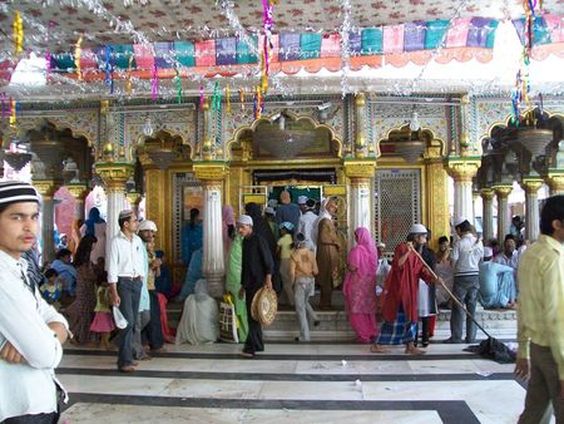 The picture shows just the beginning preparations for the huge
celebration of the "Urs" of Sheikh Nizamadeen Aulia. The Dargah of
Sheikh Nizamadeen - busy with excitement for the celebration. The
"Urs" celebrated in April is the day that the Sheikh merged in Allah.
Individuals and families from all over the Indian subcontinent come for
the celebration. It is common to see people from many religions going
to the dargahs of the Sufi saints who are known for their love of all
people regardless of their religion and for their miracles.
See hundreds of photos of all religions in the Embrace Gallery of
Sacred Places. We invite donations of photos of sacred places from all